Healthcare, laboratory & kitchens
A hygienic, practical material
Double Stone Steel PVD coated stainless steel is suited to medical, laboratory and kitchen environments as it provides a highly durable and hygienic finish with the use of the antimicrobial finish.
Front of house serving areas in cafés, motorway services and canteens also benefit from the spectrum of colours possible and the anti- fingerprint coating.
Double Stone Steel is flexible in its services and can recolour existing components and products as well as supplying PVD coated coloured sheet stainless steel to kitchen and medical unit manufacturers.
A selection of our healthcare, laboratory & kitchen products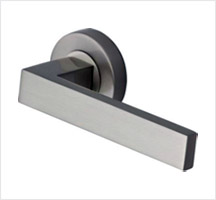 Door and cabinet handles
We supply and recolour stainless steel:
Pull and lever handles
Hinges
Knobs
Escutcheons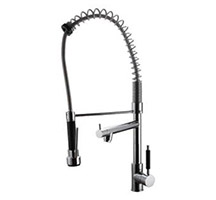 Taps
We supply and recolour stainless steel:
Bath dual outlet taps and mixer taps Shower heads and shower roses Kitchen dual outlet taps and mixer taps Accessories.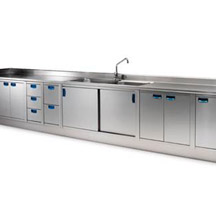 Units and countertops
We supply and recolour stainless steel countertops and units for:
Commercial kitchens
Front of house serveries
Domestic kitchens
Laboratories & medical environments
Sluices
All with Anti Microbial Finish
PVD coated coloured stainless steel standard colours
Wear and scratch resistant
Corrosion resistant
Environmentally friendly – zero waste residue
Standard PVD coating is 0.35 microns thick
Flush finish where two PVD coatings meet
Creates a metal-against-metal lubricant
Stainless steel material is 60% recycled and 100% recyclable
Can be colour matched to other finishes & materials
Can be specified in a wide spectrum of colours
Can mimic more expensive materials such as bronze, brass & gold
Can be completely colourless for a natural stainless steel appearance
Can be re-coated once coated
Also available:
Anti-fingerprint coatings in gloss or satin
Anti-microbial coating
Antiqued finishes (available in USA only)
Embossed finishes, coloured and uncoloured
All Coloured Stainless Steel PVD coatings are guaranteed for twelve years.