Richard Serra: Experiencing Steel and Architecture at Bilbao's Guggenheim Museum, Spain

The work of American artist Richard Serra (b. 1938) takes sculpture off the pedestal and cleverly utilises industrial materials and processes. In doing so, he makes sculpture occupy a common behavioural space that can invigorate the everyday perception of the built environment. Serra uses materials such as lead and steel and explores their intrinsic properties. A work that signalled his maturity as an artist is One Ton Prop – House of Cards (1969), where four sheets of lead antimony form a cube by standing on their 2.5 cm edges. To achieve this, Serra took advantage of the individual pieces' weight and gravity to counterbalance them and make them free stand without soldering.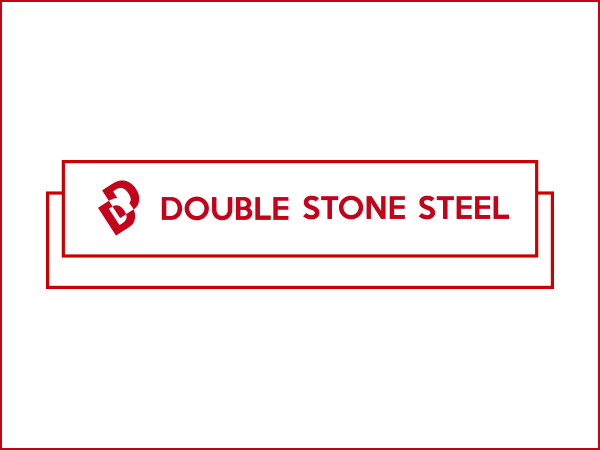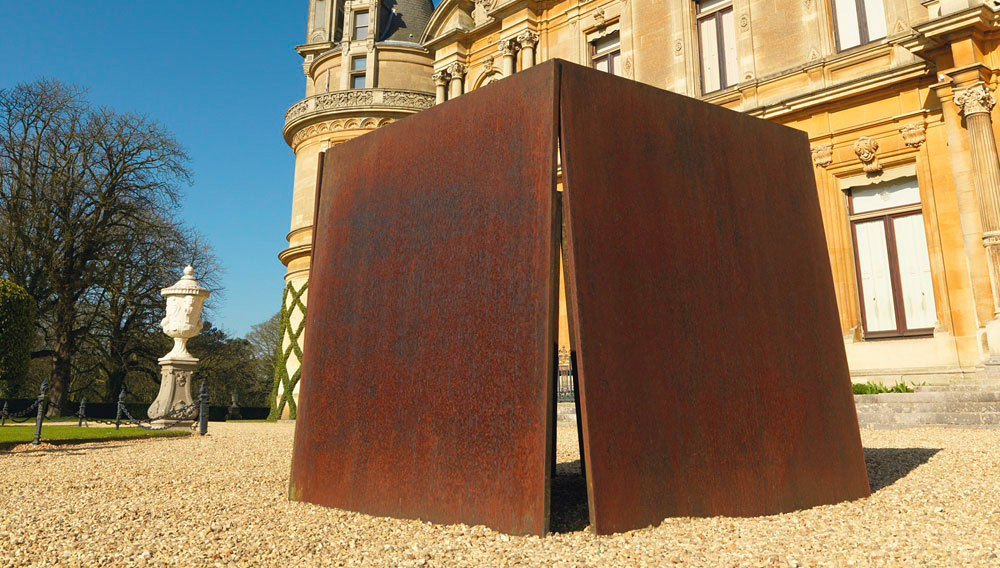 Corten Steel: From Shipbuilding to the Art Gallery
Today Serra's signature style can be recognised in the use of large plates of weathering steel, also known as corten, such as the ones used for manufacturing prows of ships. Whilst continuing to explore material properties such as weight and gravity, he has employed the malleability of steel to place lithe vessels in the abstracted space of the art gallery.
My first encounter with a Serra sculpture was Snake (1996) at Bilbao's Guggenheim Museum, shortly after its opening in 1999. Snake consists of three 5cm-thick meandering corten pieces (4 x 31.7 x 7.84 m). Each of these long sheets is made by welding together two elliptical sections of cone, joined by the lateral edges with the concave spaces looking in opposite directions, which make the sinuous form of a snake appear. Spacing the three long pieces at ground level makes two undulating passages appear between them. The middle sheet is upside down, making the base of the elliptical section become the top. As the radius at the bottom is smaller than at the top, some parts of the corridors narrow at the bottom and widen at the top, whilst maintaining an overall sense of proportion through the whole piece, since all sections, regardless of their position, have the same centre. The key here, as in much of Serra's work, is the negative space.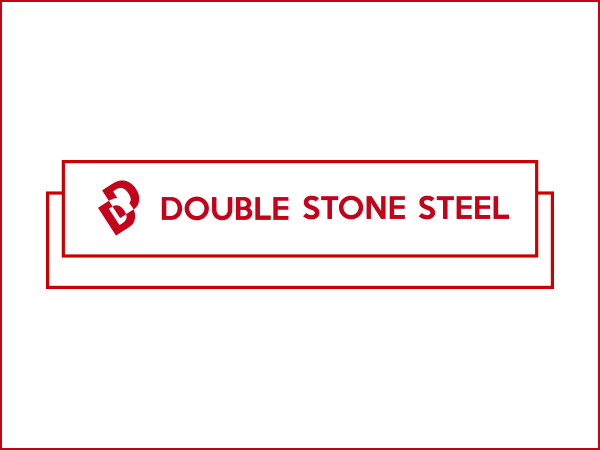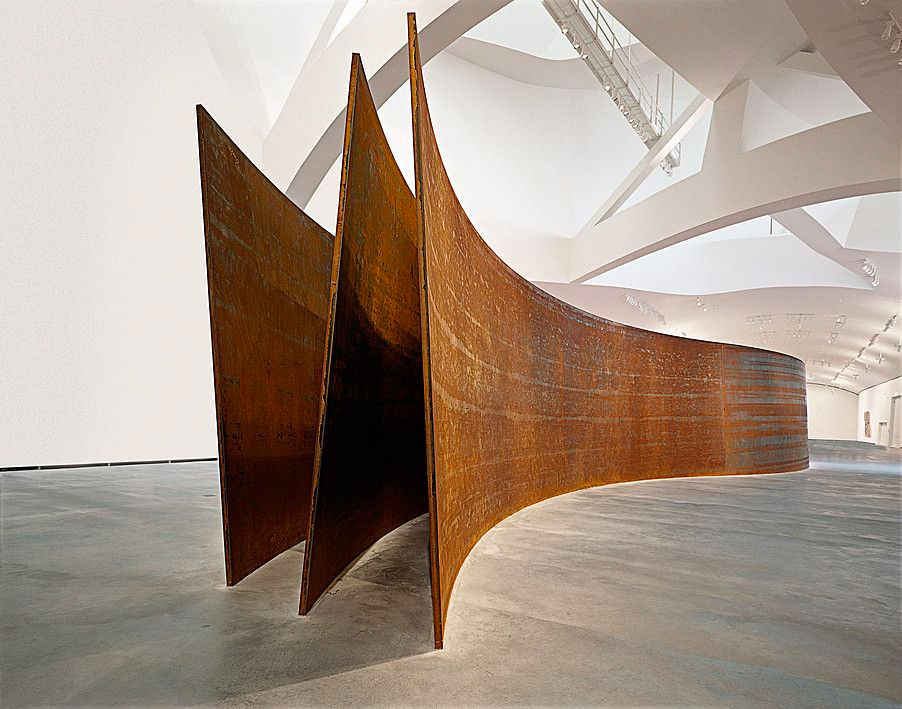 Steel Plates Compressing and Expanding Space
One of the passages anticipates a compression of space, restricting access to it, whilst the other feels more expansive and inviting. Walking inside the piece one can feel the textured lateral surfaces of the corten sheets, their unique deep orange, and the intensity of the oxide. The sense of being and moving within such space changes as the leanings of the metal afford different spaces of possibility whilst surrounding us with delicately sinuous surfaces. There is a sense of adventure, for the body feels animated as if pulled forward by an uncertain force. Transiting the long passage, one can feel disoriented and scared at times. The perception of the duration of time augments. Every second counts.
Snake is a dynamic encounter with accessible and inaccessible spaces, gravity, directionality and multiple perspective points. This multiplicity becomes more patent when approaching the sculpture laterally and surrounding its outer walls like those of a fortress. Seeing it from the balcony above also provides a vantage point that reveals its emphatic graphism and connects Serra's large steel sculpture with the forceful mark-making his drawing practice.
Snake is placed in the museum's gallery 104, or the "fish gallery". From the outside, Frank Gehry's architectural design resembles the soft curvature of a fish's backbone or the fluid forms of Bilbao's river. From the inside, a set of flying buttresses of varying lengths evoke the spines of a fish. Legend has it that Gehry designed the gallery to specifically accommodate Serra's Snake, thus continuing a fruitful and provocative conversation between architect and sculptor. The theatricality of Gehry's design differs strongly from the simplicity of Serra's approach, who does not try to prescribe an emotional effect. The sculpture is placed along the longitudinal space, and an interesting dynamic appears as it cuts across the flying buttresses. Serra's minimal take on the characteristics of corten and direct play with geometric forms provokes a raw experience of perceiving space through movement in a material field. The industrial material can be comforting and familiar while threatening and impenetrable. It activates our proprioception, the sense of our body in space, in conjunction with a visual and acoustic experience that build a sense of anticipation, possibility, mystery and discovery.
Twisting Architectural Function
In 2005, the same gallery at Bilbao's Guggenheim held Snake surrounded by other series of Serra's work, Torqued Ellipses I, II, IV, V, VI (1996-9) and Double Torqued Ellipses I, II, III (1997-9) for the exhibition "The Matter of Time."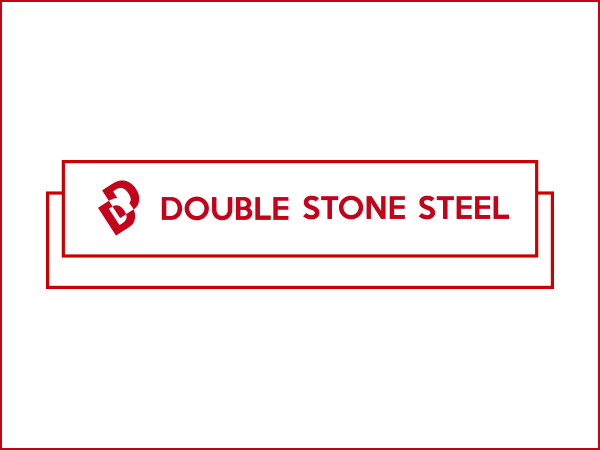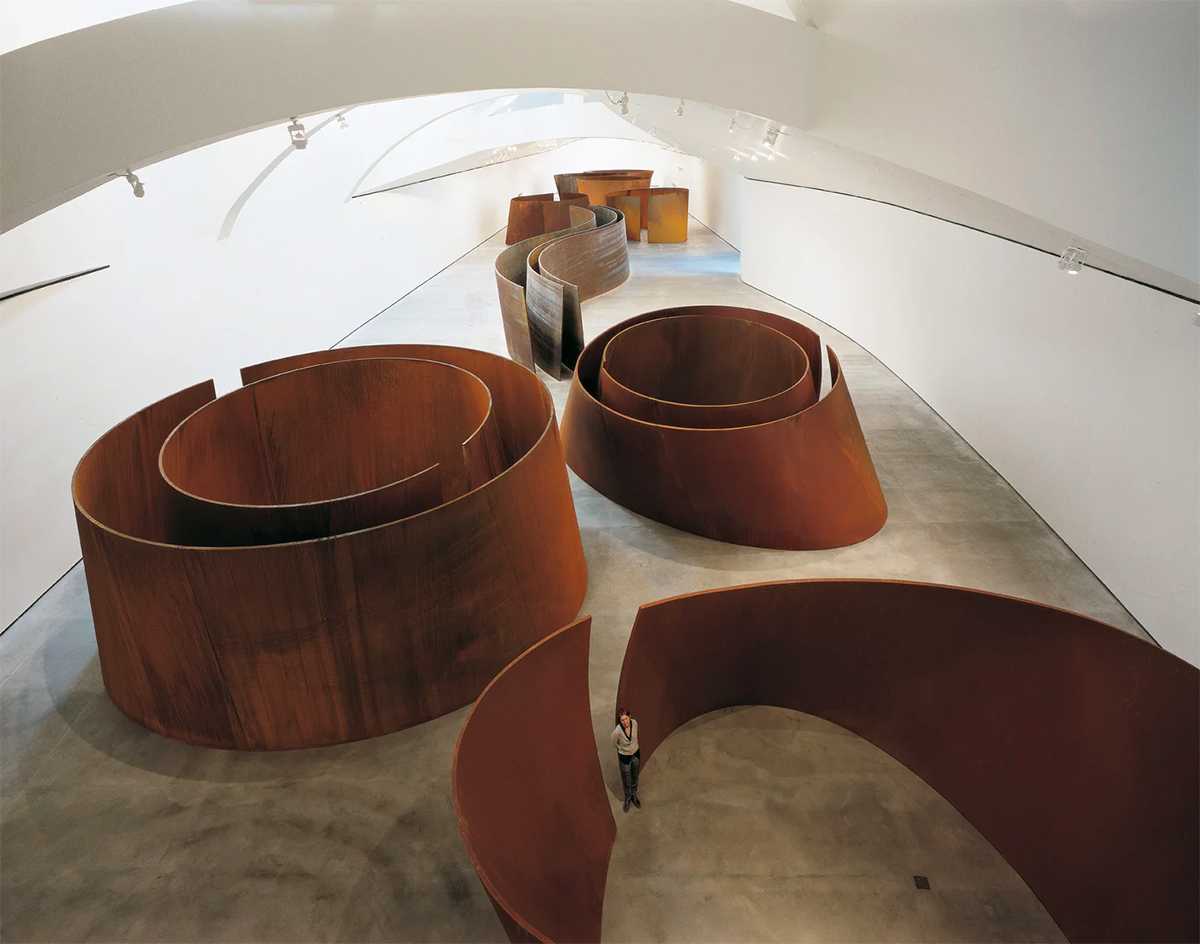 On this occasion, Serra proposed a journey from simple to more complex forms. The departure point was cylinder and cone sections cut at different planes, sometimes parallel, sometimes inclined, thus revealing circular and elliptical forms which would become the top or bottom of the piece when free standing. As the section is cut open, the properties of rolled steel become apparent for a single corten sheet can lean in different directions depending on shape and weight. This makes some pieces appear as if torqued or twisted. Walking around a piece from the outside, can be unpredictable, whilst entering it offers a total view of its curvilinear shape. Finally, looking at the top opening frames the forms of building, as if containing Gehry's spectacular conceits.
In Double Torqued Ellipses Serra introduces variations of this procedure to achieve more complex configurations, such as corten rings wrapped around each other that look like reels or torcs, the Bronze Age open front necklaces found in ritual burials and hoards. Some rings might have openings, thus allowing to walk into the centre, or space in between that permits to circumnavigate them in a spiralling movement. The view from above can remind of a galaxy, where the rings stand for the capricious orbits of different planets circling round the same centre.
From the outside, simple individual forms can resemble a huge thimble or a fort, others with a smaller base look like pots. Nevertheless, the installation must be seen as a whole. At floor level, it is a journey through walled containers, sinuous thoroughfares and concave gathering sites. It feels like an abstracted urban space all made of curves, rather different from our experience of the modern city, mostly defined by rectilinear forms. Yet, these contradictions are to be resolved by whoever experiences them, as the artist shuns from prescribing specific emotional effects.
Serra has deservedly become an emblematic figure of American art, for he presents the basics of modern architecture and engineering through an experiential take on materials which, even if seemingly muted, have the potential to inspire both awe and fright.