The profound legacy of the influential architect Eero Saarinen
Eero Saarinen
Born August 20th 1910 in the municipality of Kirkkonummi just outside Helsinki
Passed away at the age of 51 on September 1st 1961, in Ann Arbor, Michigan.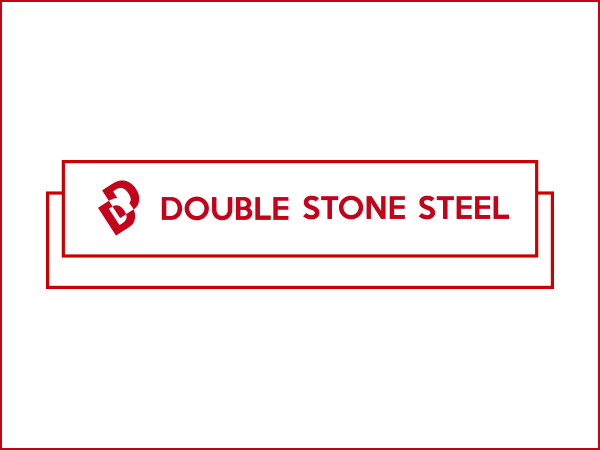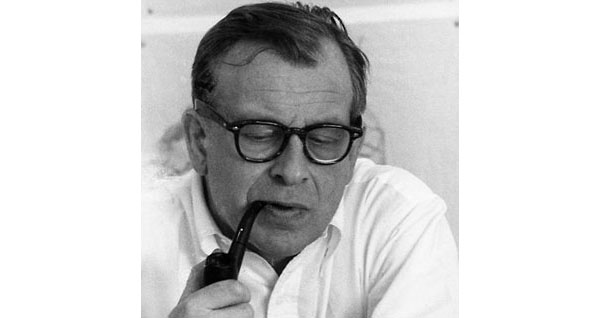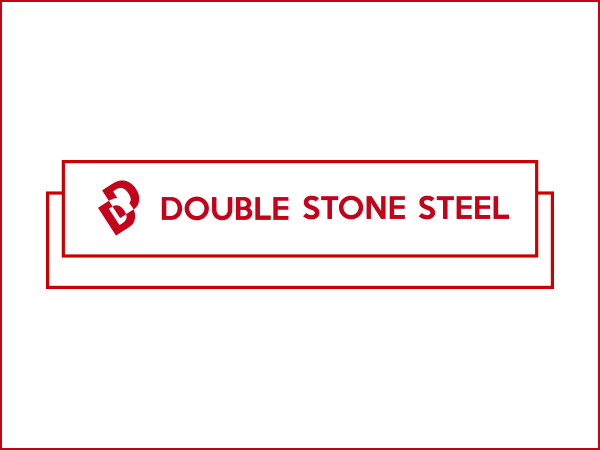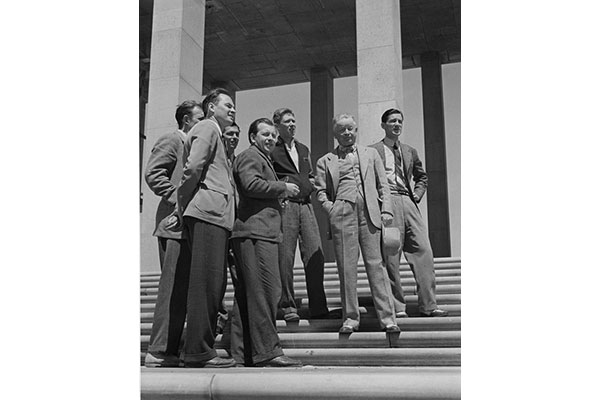 Eliel and Eero Saarinen
Interestingly, Eero shared his birthday with his influential and noted architect father, Eliel Saarinen (August 20th 1873- July 1st 1950). I think it is very sad that Eero died only eleven years after his father who had lived a whole twenty-six years longer.
The family moved to the USA in 1923, first setting up home in Evanston, Illinois. A year after moving to the USA, his father became a visiting professor at the University of Michigan. His father eventually designing the Cranbrook Educational Community which as the USA's answer to the Bauhaus. His father taught at the academy eventually becoming President of the Cranbrook Academy of Art in 1923. His students included the awesome Ray Eames.
My favourite building by Eliel in the USA is Des Moines Art Centre which opened 1948.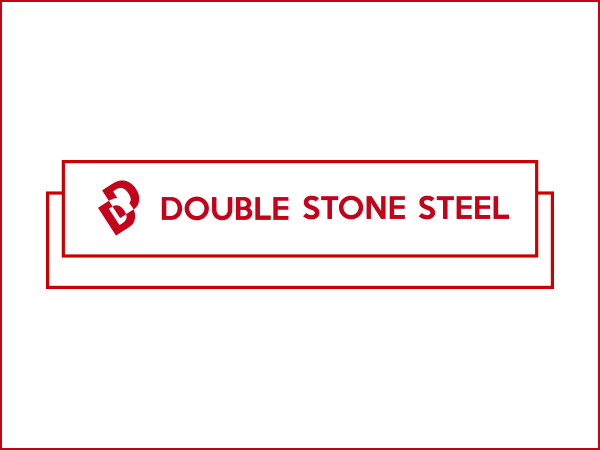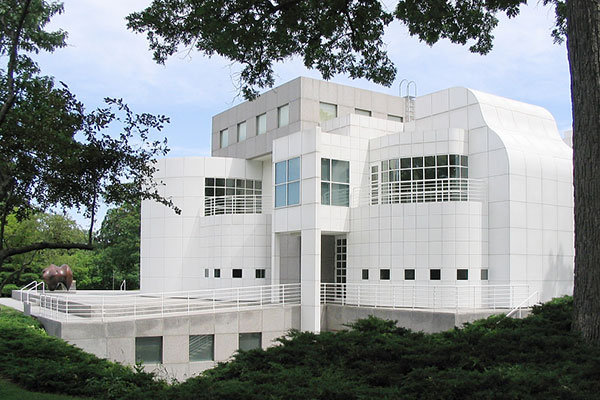 So the young Eero Saarinen spent his formative years surrounded by some of the world's most talented, exciting and brilliant architects, artists and designer of the age. In my opinion that is why his talent exploded in all direction, he designed iconic chairs and furniture, his buildings include the St Louis Arch, the Kleinhans Music Hall in Buffalo.
Tragically Eero would never see his last 10 buildings through to completion, he died during an operation to remove a brain tumour. Saarinen's influence was such that he was asked to sit on the jury for the design competition for the Sydney Opera House.
The TWA Terminal
Saarinen is very well known for his stunning and dramatic design for Trans World Airlines (TWA) Flight Centre which is at The JFK airport in New York city.
The original terminal was opened in 1962 and was heavily remodelled in 2005. In 1962 air travel was still an exciting thing to be part of. It was the jet age. The airline companies had money and the fight for customers was building. Companies were looking for a way to be different and terminal buildings were key to this. This new building was to be part of the airlines most successful marketing campaign.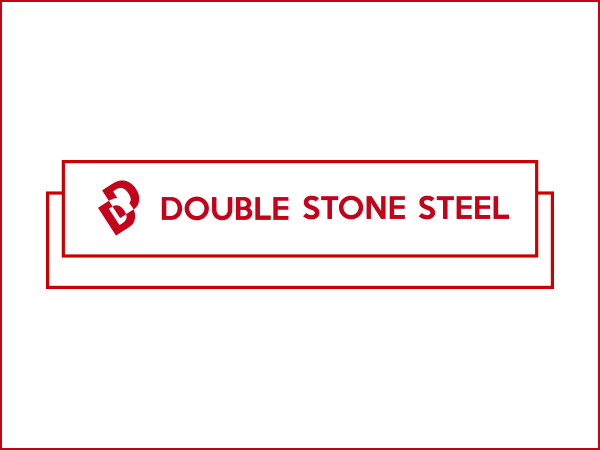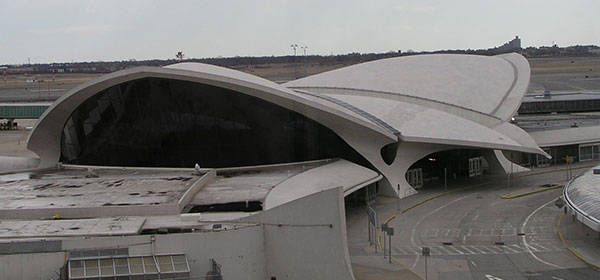 The TWA Flight Centre's construction is known as a 'thin shell concrete structure'. It is not a large building it is only built from 5400 tons of concrete is 67 m wide and 96 meters long. It is a little over 5000m2.
The contemporary purists of modern architects were alarmed by the bird like design, Saarinen defended his design saying,
"All the curves, all the spaces and elements right down to the shape of the signs, display boards, railings and check-in desks were to be of a matching nature. We wanted passengers passing through the building to experience a fully-designed environment, in which each part arises from another and everything belongs to the same formal world."
To me Saarinen's design evokes the drama and the pure excitement of air travel. Whilst we walk through shiny, convenient airports, I do not think we will ever love them. Honk Kong airport is impressive, T4 in London…shiny but not worthy of affection. The romance of air travel at the time was undeniable, it was not just getting on a flying bus, it was an event, it made people feel if they were part of mankind's technological and economic elite.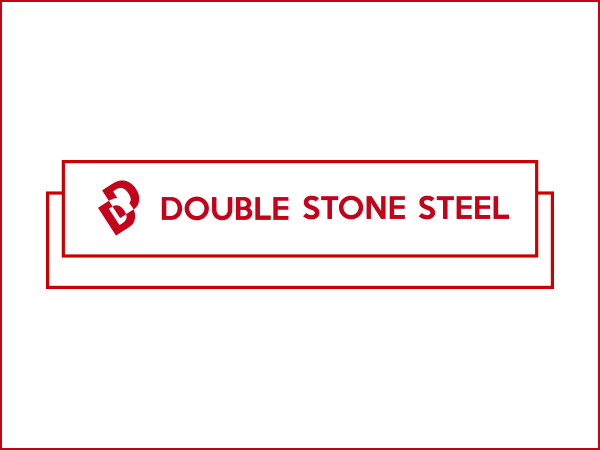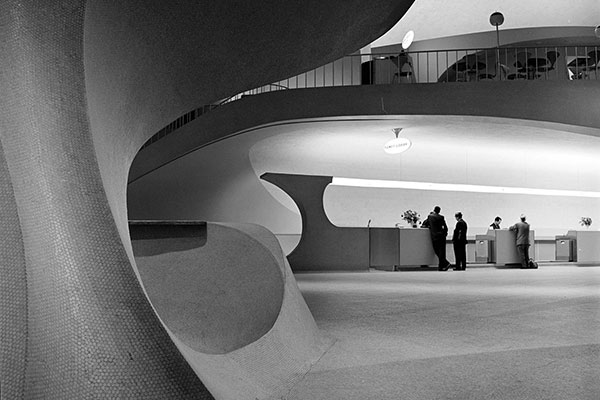 The project was so exciting that Saarinen was able to attract the cream of industrial and interior designers to work on the project. One example was the frenchman Raymond Loewy who designed the Union News Restaurant's coffee shop. Loewy's own clients included Studebaker, Boeing – where he designed Airforce One's color scheme and the USA Postal service. Later in the 70's Loewy would design the interior of Concorde for Air France.. Everything from Locomotives to Razors…an amazing man and a highly suitable collaborator for Eero.